==================================================================================
UNITED STATES
SECURITIES AND EXCHANGE COMMISSION
Washington, D.C. 20549
FORM 8-K
CURRENT REPORT
Pursuant to Section 13 or 15(d) of the Securities Exchange Act of 1934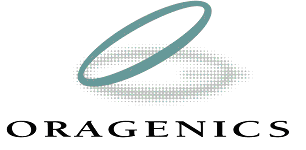 August 13, 2003
Date of Report (Date of earliest event reported)
ORAGENICS, INC.
(Exact name of registrant as specified in its charter)
Florida

333-100568

59-3410522

(State or other jurisdiction
of incorporation)

(Commission
File Number)

(IRS Employer
Identification No.)
12085 Research Drive
Alachua, Florida 32615
(Address of principal executive offices including zip code)
(386) 418-4018
Registrant's telephone number, including area code
None
(Former name or former address, if changed since last report.)
==================================================================================
---
ITEM 7. FINANCIAL INFORMATION AND EXHIBITS
| | |
| --- | --- |
| Exhibit No. | Description |
| 99.1 | Press Release |
ITEM 9. REGULATION FD DISCLOSURE
The Company announced that it had filed a patent application with the United States Patent and Trademark Office covering its probiotic based technology. A copy of the press release is filed as an exhibit to this Form 8-K.
- 2 -
---
SIGNATURES
In accordance with the requirements of the Exchange Act, the registrant caused this report to be signed on its behalf by the undersigned, thereunto duly authorized on this 13th day of August, 2003.
ORAGENICS, INC.
(Registrant)




BY:




/s/ Mento A. Soponis

Mento A. Soponis
President, Principal Executive Officer and a member of the Board of Directors.
- 3 -
---